---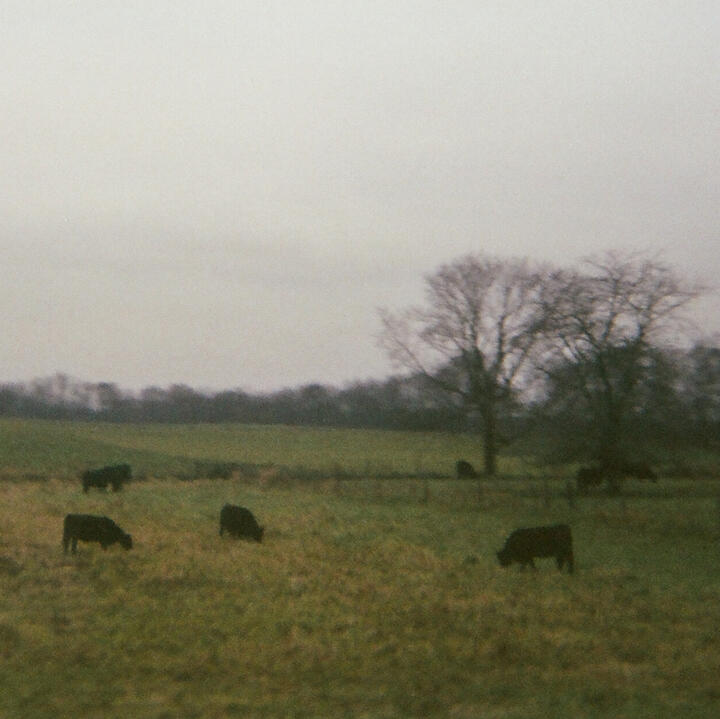 Landon Caldwell
---
is an Indianapolis based artist, musician, and producer. His work explores the language of intuition, family, and ecology in the industrial midwest, frequently hovering between minimalism and improvisation.
He has toured in the United States, Canada, and Europe and is regularly engaged with artists and musicians across the Midwest. Since 2016 he has co-operated Medium Sound, producing a number of the label's releases. He hosts the open format Morning Meditation program on Indianapolis radio station WQRT and Saturday Morning in a Field of Dandelions, a broadcast of experimental music and sounds for children. From 2015 to 2018 he opened and curated numerous events at State Street Pub. His recorded output can be heard on numerous label's including Trouble In Mind, Castle Face, Magnetic South, Astral Spirits, Sophomore Lounge, Atlantic Rhythms, and more.
From 2017 to 2020 he was a co-owner/operator of A-Space, a community focused recording studio.
His collaborative work expands into multi-disciplinary fields, working with film, visual arts, sculpture, poetry, dance, and more.
---
---
---
SELECT WORKS
| | | |
| --- | --- | --- |
| Black River | Composition for video by Jan Staller | score, 2021 |
| THIS IS A ONE OF A KIND RECORDING OF GENERATIVE MUSIC | One of a kind tapes of music created using a generative synthesis engine controlling various synthesizers including self-programmed digital synthesizer, as well as FM, wave-table, and analog. This is a collection of sounds that have been featured in some installation work, as well as other recorded work. | tape, 2021 |
| BLOOM | generative light installation for weary late-night travelers of East 10th Street. | artist's residence, March 21, 2021 |
| SUBTERRANEAN ASSEMBLAGE | private basement multimedia installation with salvaged lights, music box rolls, flute, and generative, FM, analogue, & wavetable synthesizers. | artist's residence, 2021 |
| COMPOSITION BLOCKS | This set of 6 blocks is a new tool for composition. Each side of each block has a specific instruction or strategy. The blocks can be used as a chance operation, a creative strategy device for working through a composition, or they themselves can be the composition. | 2020 |
| THE PEOPLE'S LIVING SOUND LIBRARY | A collection depot for community-submitted, one-of-a-kind cassette tapes with an emphasis on recordings of live home performances with no back ups, particularly digital. Strictly one-of-a-kind. (Jammin straight to your tape deck). The People's Living Sound Library is a garden of music. Things come and go and come again. It returns scarcity and sacredness to music in a time when music has become omnipresent. Listening requires effort. Participation is like tending a garden. This project is intended to be anti-curatorial, anti-availability, anti-archivist. Strictly one-of-a-kind, a break from our obsession with over documentation and preservation. Strictly one-of-a-kind, to break listeners from the inundation of media, the waste of access, the skip button. To return to the joy of the unknown: gotta take it home, can't hear it here. Be kind, rewind before you return. Or don't. We all miss live music. This is a way for us to share a unique experience of music without being together in the same space. An experiment to see if we can share similar psychic states in different places in space and time. An attempt to approach music as a folk art again, something to develop in the confines of a community. | 2020, State Street Pub |
| PEACE PARK | Site specific composition for the Peace Park at the Paramount School of Excellence. The park was created by students and staff. The piece was commissioned by Keep Indianapolis Beautiful and the Arts Council of Indianapolis. | 2020, Brookside Neighborhood, Indianapolis |
| DEAR FRIEND | This film was created as a gift for our loved ones while we were all in isolation. The sole utility of the piece is to brighten up your day and to bring you back to the little pleasures of childhood. Filmed and in-camera edited in Super 8mm by Rocio Mesa with an original soundtrack by Landon Caldwell. | |
| QUARANTINE MEDITATIONS | one time, 1 hour radio broadcast of meditative drones composed in quarantine for world healing | 2020, 99.1 WQRT-LP |
| BICYCLE DAY | begins as a conceptual performance during quarantine to engage my neighborhood, explore the utility of sound beyond its commodity. A mobile sound bath. An early version of the composition was broadcast from a speaker mounted to a bicycle and played throughout my neighborhood. The most important music encourages us to imagine a different world. What would happen if we removed that music from the underground and injected it into the public life? | 2020, Irvington |
| FOUND IN A HOUSE | multimedia group performance incorporating music, film, and dance. | 2019, White Rabbit |
| CHURCH OF THE INFINITE SPACE RITUAL | open invitation community improvisation and extended drone sound installation in the artist's windowless living quarters | 2012, Shared Heritage |
---
DISCOGRAPHY
(incomplete)
Landon Caldwell
Black Beauty (Medium Sound)
White Tape (self-released)
Red Tape (self-released)
Global Drift (Medium Sound)
Prelude to the Dog Ballet: Select Works '15 - '18 (self released)
Unity (Atlantic Rhythms)
Bicycle Day (Mock Records)
Unity In Isolation (with Nick Yeck-Stauffer) (Astral Editions)
Deep Strand (Trouble In Mind)
Simultaneous Systems (with Flower Head Ensemble) (Moon Glyph)

Caldwell/Tester
Former Sucker (Medium Sound)
Sugar Times (Castle Bravo)
Two Reels (Medium Sound)
Live Times (Medium Sound)
Little Flower (Astral Spirits)
Mark and Landon - Vol. 1 (Medium Sound)

Creeping Pink
A Feast from the Village Pantry (On Credit)
Future Acid Family (Holy Infinite Freedom Revival)
Mirror Woods (Castle Face)
Glass Castle (Medium Sound)
A Parliament of Trees (Magnetic South)
__________ (self released)
Found In A House (self released)

Nathaniel Russell & Landon Caldwell
Peace Jazz Now (The Smudge)

Thee Open Sex
White Horses (Sophomore Lounge)

Crazy Doberman
S/T - (Mastermind)
Rust Clatter For the Midwest Sun (I Dischi Del Barone)
Illusory Expansion (Astral Spirits)
FOUR hymns for UN-REST (self-released)
hypnagogic relapse and other penumberal phenomena (Digital Regress)

Burnt Ones
Gift (Castle Face)
The Space Lady/Burnt Ones split (Castle Face)
Last Draft in Different Rooms (self-released)

American Cream
Embrace You Millions (Medium Sound)

Aaron Diko's DDCT (Empty Cellar/Medium Sound)

Production, Engineering, & Mastering
Crazy Doberman, Mark Tester, Total Disgust, MKII, Zurich Cloud Motors, Rob Funkhouser, Duncan Kissinger, The Dayton Exchange, Solid Squares, Dirtbike
---
RADIO WORKS
| | |
| --- | --- |
| MORNING MEDITATION | Long running music program features kosmische, free and spiritual jazz, outsider rock, modern classical, ambient and electronic music, and more. Previous episodes here. |
| SATURDAY MORNING IN A FIELD OF DANDELIONS | Children's radio hour of quality content that respects and uplifts children's creativity and intelligence, featuring curated and original content. Previous episodes here. |
| AN ACCIDENT IN THE BAY | experimental radio drama composed and produced in the San Francisco Bay Area. Listen here. |
| GARFIELD PARK CONSERVATORY | Site specific composition created for radio broadcast. A sonic tour of mood and ambiance for the rainforest themed conservatory in the oldest park in Indianapolis. Listen here. |
---
SERVICES
inquire with email
ENGINEERING & PRODUCTION
In studio or mobile

FILM/VIDEO
scoring & audio design for film & commercial work

MIXING & MASTERING
remote service

LIVE PERFORMANCE AND DJ
a variety of sonic atmospheres and environments
---
Contact
765-551-9074
landonscaldwell@gmail.com
---